Here's just a small sampling of the software we've built.
Where blockchain technology meets financial intelligence, our SaaS platform hosted in the cloud is available both online and in the QuickBooks App Store.
Connect directly with an accounting information system, such as QuickBooks Online, and generate push-button analytics on nearly 50 topics of financial intelligence.

Compare and consolidate across periods and across companies.

Invite your colleagues, accountant, financial advisor, or consultant to view your financials within the Arene platform for free.

Form private Workspaces in which every document shared, every task created, and every file certified with blockchain is tracked with immutable smart contract technology (Patent Pending).

Generate blockchain-certified financial statements (Patent Pending) that may be stored, shared, and re-verified at any point in time with both a re-generation of the blockchain certification and a live variance report. See "Blockchain-Certified Financial Statements" below.

Join the community for free with Company subscriptions starting at just $12.00/month!
Blockchain-Certified Financial Statements (Patent Pending)
Generate blockchain-certified financial statements to store for your own records or to distribute to bankers, auditors, investors, and more. Conduct verifications that testify to the integrity of the statement's financial data and generate a live variance report within a matter of seconds.
Each certified statement created through Arene and its live integration with your accounting information system is stamped with our blockchain seal of tamperproof authenticity.

Share statements with others via email, as a PDF, or directly to other members of the Arene community.

Any bearer of a certified financial statement may upload it to Arene at any time to conduct a two-fold verification in a matter of seconds: (1) the blockchain regenerates the digital signature of the original certification to ensure the statement itself has not been tampered with, and (2) Arene calls upon live data in the accounting information system to generate a real-time variance report comparing the previously certified financial data and the current account values.
Enterprise financial reporting in real time
Pro-Forma Financials: Utilize our proprietary technology to experience fully automated pro-forma financial statements that streamline and visualize critical information regarding future expectations of your business.

Variance Reports: Forget time-consuming variance report calculations that fail to deliver accurate information. Opt in for fully automated variance reports generated with real-time data.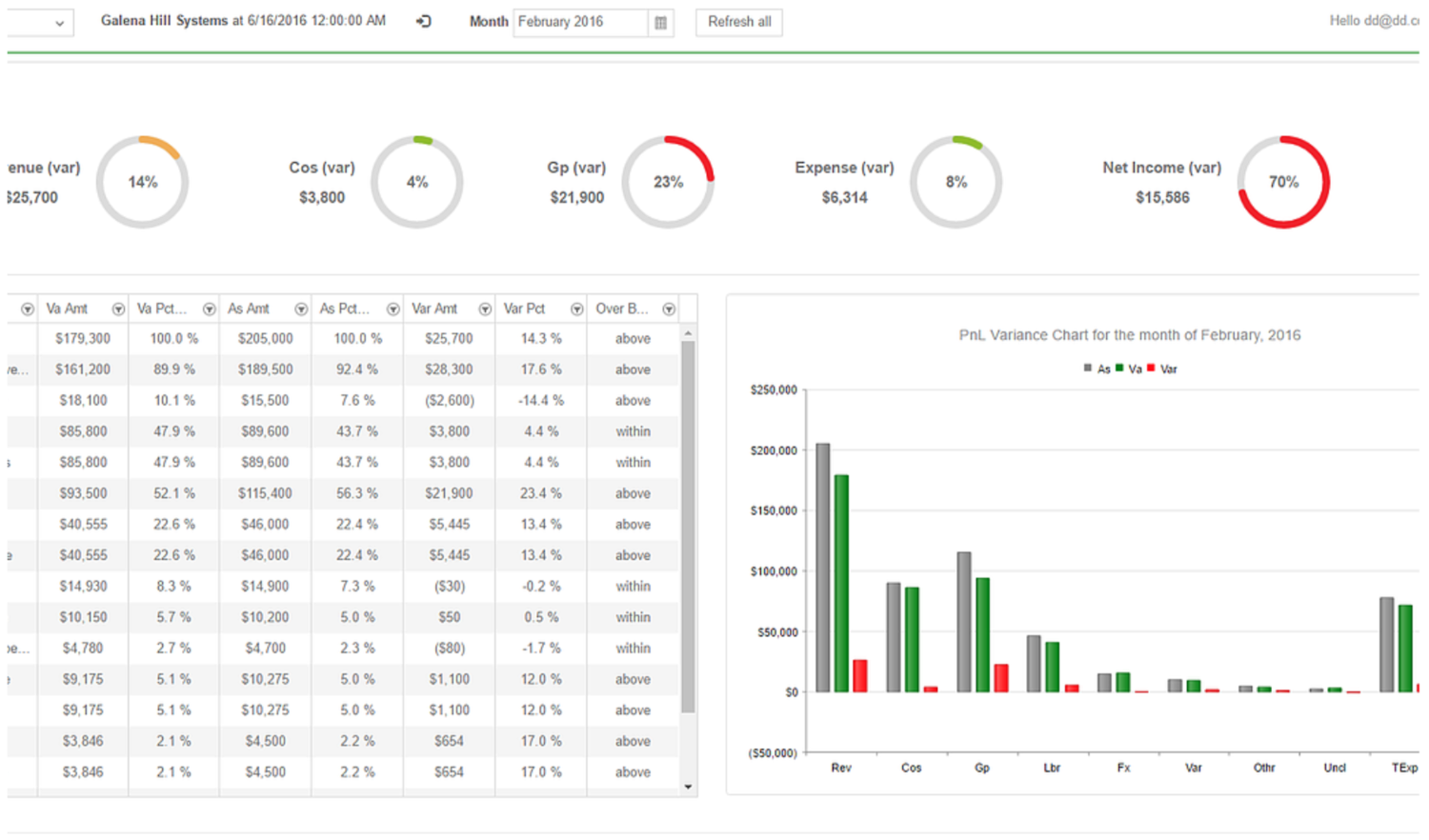 Financial models for Solar Water heating and Photovoltaic renewable energy systems
Published Studies: GalenaHill published studies on the lifecycle financial management of photovoltaic and solar renewable energy systems.
Advanced comparative analytics for managed projects
Custom Financial Analytics: Our custom financial analytics for managed projects include earned value management, work-in-process accounting, progress billing, and much more.